Why on earth would you need a gift wrapping station? Well partly so you can feel smug and organised, but mostly because it makes life so much easier when you need to wrap a whole load of presents! It's really frustrating when the stuff you need is all over the place and as soon as you sit down to start you realise you've forgotten the sellotape or run out of paper…
The best part is that a gift wrapping station doesn't have to take up a lot of room. There are so many great hacks for creating one in whatever space you have available. And even if you've left things to the last minute you'll still have everything to hand.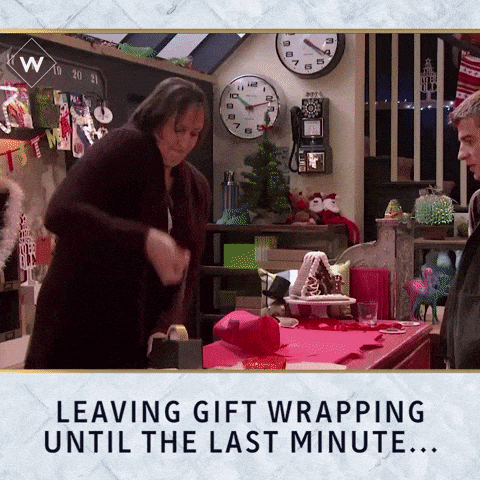 A sideboard gift wrapping station
I use a set of drawers for mine. The bottom drawer is the perfect width and depth for rolls of wrapping paper, brown paper and tissue paper. The middle drawer holds all the stuff I hoard save for making my wrapping look pretty. Things like ribbons, twine and bows, gift tags and other cute bits and pieces… (take a look here to see what kinds of things I keep 'just in case'). It also holds gift bags and little gift boxes I've kept from presents I've been given. The top left drawer has a box of cards, scissors and sellotape in it. (The top right drawer holds other stuff that's not related to gift wrapping 😄)
A gift wrapping station in a cupboard
If you have the space a cupboard would also be great. There are loads of great ideas on Pinterest for this, including using tension rods to keep rolls of wrapping paper in place and using baskets or tubs to organise other bits and pieces. You can also use kitchen roll/paper towel holders attached to the inside of the door for holding rolls of ribbon and washy tape.
A mounted gift wrapping station
If you don't have any storage space available, then you can easily create a wrapping station that's mounted on a wall or door.
Here's a quick video to show you how to use the inside of a cupboard door.

Or you could use pegboard that's mounted on any wall. It'll make life easier if you put it near a desk or table so that you have a surface to do the wrapping on, though I've often ended up wrapping on the floor anyway 😆
A wrapping kit in a box
If you really can't find anywhere to create a gift wrapping station, then the next best thing is a gift wrapping kit in a box. Any box that will hold your supplies in will do. It's just so much more convenient when everything you need is in one place. And this has the advantage that you can just carry it to wherever you want to do the wrapping.
Just do it…
The great thing is you can go as minimal or as crazy as you like depending on the space you've got available. If you really want to get gift wrapping station envy, then take a look at these ideas on Pinterest... I think I'd have to either win the lottery or become a professional gift wrapper before I could ever justify the space taken up by some of these! But even the smallest, simplest solution is worthwhile, so go ahead and create your own in your own way.