Getting a homemade gift can be a lot more special than something that has been bought. You know that the person who gave it to you has definitely put some time, thought and effort into it. And even a shop bought present can be personalised with the addition of a DIY touch, like giving a handmade bookmark with a book. I think that during the pandemic we've all come to appreciate things like this a bit more than before!
Of course making your own gifts can get out of hand. I remember watching Kirstie's Handmade Christmas one year hoping for inspiration… unfortunately making the Christmas baubles involved going on a glass blowing course and quite a few of the other ideas were just as expensive!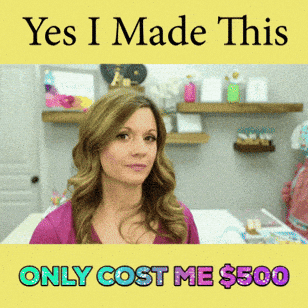 So I've compiled a list of some easy and rather more financially accessible homemade gift ideas for you to try your hand at. You might still need to do a little bit of shopping for supplies, but overall it should work out cheaper. And there's a range of skill levels to choose from so you should definitely find something you can impress with even if you're a novice at this 😁
Just click on any heading below to go to the instructions for that homemade gift.
These are much easier to make than ordinary candles. The wax is designed to be poured into a container so all you need to do is melt it and add a wick. You can use different types of containers to suit the recipient. Try cute floral teacups, empty jars and tins or even a mug. You can scent or colour the candles if you like, but they're fine plain too if you want to keep it as simple as possible.
One thing to bear in mind… Don't melt the wax in a pan that you're going to use again for cooking. Use an old one (your own or from a charity shop/car boot sale) or buy a cheap new one that you can use exclusively for making candles.
I received something similar from a friend a while back and I love it. These instructions are very easy to follow and the result looks really professional. If you don't want to use leather you could use faux leather or suede, or even thick felt. You could make it even more special by personalising the cover in some way, such as embroidering an initial, painting/drawing a design on it or, if you're lucky enough to own a pyrography kit or Cricut machine, you could use it to do something particularly fancy 🤩.
This blog post has a whole lot of different ideas for edible gift ideas which you can make at home, as well as all sorts of ways to present them beautifully. Edible gifts are great, as everyone loves a treat and as they'll get eaten up you can keep giving them over and over!
These beaded bookmarks are incredibly simple to make and make a great accompaniment when you're giving a book or book voucher as a gift. The type of cord and beads you use can make the bookmark look very different. Plastic beads and bright colours are great for kids or use more sophisticated glass beads for adults.
Just make sure the cord you choose fits easily through the hole in each bead. When I made these I knotted the cord at the end instead of using a crimp. This means they're even easier to make and you don't need any special tools. Here's are a couple I made and kept for myself…
Who doesn't love bath bombs? They can be quite pricey when bought, but it's relatively easy to make your own and you can choose your own fragrances, colours and other bits and pieces to add for decorative effect! You don't need bath bomb moulds as a lot of instructions suggest. You can use any plastic moulds or silicone cupcake cases.
Depending on what size you make them you can put them in a large jar, a bag, a basket or a box to make a gorgeous gift.
Other bath products can also make lovely homemade gifts. I love these Tub Teas and you can buy heat sealable or drawstring tea bags to use very cheaply on eBay. Or how about these homemade bath salts? They look so pretty in the little bottles she's used, but you could could use any jar or container with a secure lid to present them in.
If you're on a roll, you could even make a range of different homemade bath products and present them in a gift hamper or basket for the ultimate pampering gift!
This has loads of ideas for different ways to paint plain terracotta pots. While I do love a terracotta pot, adding some spiffy painting does elevate them to a whole new level, without costing much at all. Add succulents, herbs or any other plants for an inexpensive gift that looks great!
If you want to give a thoughtful personalised gift but don't have much in the way of crafty skills or you're in a bit of a rush, gift hampers are a quick and easy homemade gift idea. They can be made up from favourite foods, pampering bath and body products, stationery or just about anything. If the person it's for has a specific hobby or interest you could make up a hamper themed around that, e.g. reading, movies, knitting, etc.
A similar idea is to create gift kits, like these 'Everything in a jar' ideas.
These tile coasters are really easy to make with tiles that you can pick up cheaply but they look amazing once decorated with designer scrapbook papers. Tie them together with a pretty ribbon and you've got a gorgeous home made gift to give.
I hope these have given you some good ideas for making your own homemade gifts. If you give any of them a go, tag me on social media so I can see your creations!